(Last Updated On: September 2, 2023)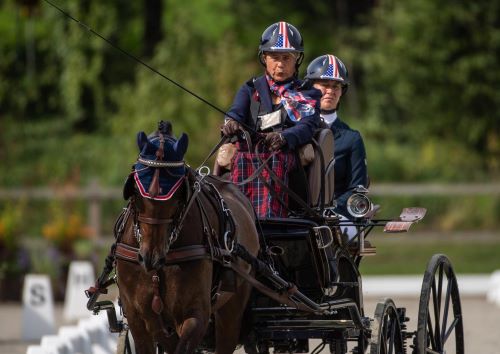 It was a day that stuck to form – for most – as the Championships got underway at the Hippisch Centrum.  With near perfect conditions for the equines and athletes, who benefitted from the smooth surface in the sand arena, it was previous medallists who led the way.
The Grade I Para Drivers opened with the first two sessions. Chrissy Aitken from Ohio, USA, driving a borrowed Dutch horse which she only met for the first time in early August, set the standard with a score of 52.56. Representing the USA for the first time as an individual, it was good enough to put her into 3rd place ahead of Saturday's marathon, which she is delighted about. With the weight of expectation on him, Germany's multi-medallist Heiner Lehrter had a brief satnav error, turning left instead of right during his test which pushed him down the order. However, the German team, thanks to the showing of Patricia Großerichter, who finished the Grade I class in 2nd with 49.36, and Alexandra Röder, who rounded off the Grade II class in 1st with 48.96, ensured that the defending champions are sitting atop the leaderboard for the nations.
It was reigning Grade I champion, Tracy Bowman (USA), who on balance most impressed the five judges and went into 1st with 46.80. Her trainer is none other than Bram Chardon and he briefly stepped into the FEI TV commentator's box during Tracy's near flawless test. It was a treat to hear from him how thoroughly they prepared pony Lars, who had been ridden earlier in the day to warm up. Nothing was taken for granted, despite the vast experience of both pony and athlete, a level of excellence which keeps them in strong contention for another gold medal. Plus, it's likely that Tracy and Bram will be the pairing to beat for the Hand-in-Hand trophy.
Although veteran Para Driver Bob Giles (USA) didn't enjoy his best day with a borrowed Welsh pony, the experience of Grade II former medallist Diane Kastama paid off when she put down a solid test of 64.48 to help put the American team into second. The Dutch are in third, the British in fourth, and Italy, with two drivers, are in fifth.
Opening the Four-in-hand European Championship event were 12 of the 39 athletes. Staking their early claims to podium places were Germany's Michael Brauchle, who tallied 50.91, and fellow marathon specialist Koos de Ronde (NED), who smiled broadly at the end of his smooth test to finish in 2nd overnight on 52.91 – both decent performances for team and individual placings. Driving his bay Lusitanos, France's Benjamin Aillaud is currently in 3rd with 56.84.
Afterwards, Brauchle said, "I was really happy with my horses, who made a good job of the test today. The atmosphere was good and not too exciting for the horses, and it was great to have Boyd helping me as team trainer."
by Sarah Dance