(Last Updated On: September 12, 2023)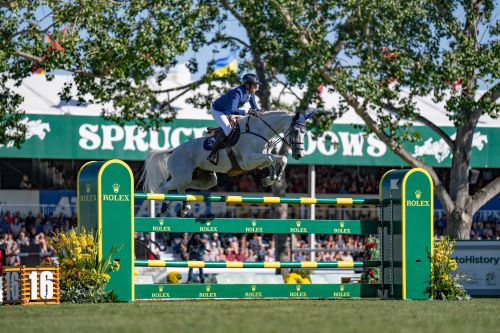 Geneva, 11 September 2023 – Martin Fuchs produced a flawless performance to win the 2023 edition of the CPKC 'International' Grand Prix, presented by Rolex, at the CSIO Spruce Meadows 'Masters' Tournament. Riding Leone Jei, the Swiss rider was the only one to jump clear over all three rounds of the competition.
The CPKC 'International' Grand Prix is considered one of the sport's toughest show jumping tests, requiring the greatest levels of precision, harmony, and stamina from horse and rider, qualities displayed in abundance by the winning combination. In a close contest featuring the world's best show jumping riders, Canada's Tiffany Foster riding Figor finished second, with Bertram Allen from Ireland in third aboard Pacino Amiro.
With only five clear rounds and seven of the fastest four-fault combinations proceeding to the second round of the prestigious Grand Prix, it was Foster who was the first to achieve the highly sought after double clear. However, this impressive feat was swiftly followed by Fuchs who, despite losing his stirrup during the first round highlighting his expert horsemanship, went on to also produce a second double clear. This forced a third round two horse jump-off, much to the delight of the passionate fans in the full-house International Ring.
Foster was first to go in the jump-off and rode boldly through the course expertly designed by Venezuela's Leopoldo Palacios, until she just tipped one pole down, opening the door for Fuchs. The crowd hushed as the World No. 5 entered the arena in pursuit of his first Major victory at Spruce Meadows. Fuchs who is no stranger to pressure, rode a perfect clear round, as he flew through the course to produce the only triple clear of the class, crowning him champion.
Fuchs now heads to CHI Geneva in December for the next Major as the new live contender of the Rolex Grand Slam of Show Jumping, the sport's ultimate challenge and most coveted prize, which rewards the rider who wins consecutive Majors at three of the world's four most historic horse shows. 2023 marks the 10-year anniversary of the Rolex Grand Slam of Show Jumping, which to date has only been won by one rider, Scott Brash.
The highlights film can be seen here.
Virginie Chevailler
Rolex SA
virginie.chevailler@rolex.com
Merrick Haydon
rEvolution
mhaydon@revolutionworld.com