(Last Updated On: September 28, 2023)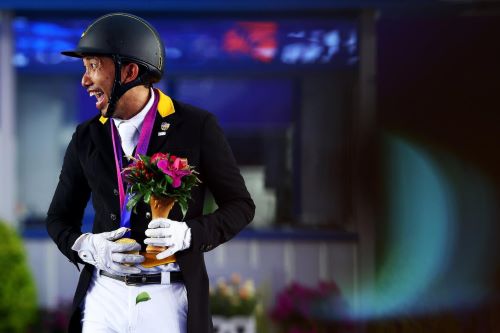 Malaysia's Qabil Ambak has won his first ever Asian Games gold medal, scoring 75.780 in the Dressage Individual Competition, and realising a 25 year-long dream. The silver and bronze medals were won by Hong Kong's Jacqueline Wing Ying Siu and India's Anush Agarwalla, respectively.
This isn't Ambak's first time on the Asian Games' podium, having won medals at the Asian Games with team and individual entries in 1998 (Bangkok), 2002 (Busan), 2006 (Doha), 2010 (Guangzhou), and 2018 (Indonesia) across both Jumping and Dressage. This is, however, the first gold medal that Ambak has won, and the first Malaysian gold in the Individual Dressage. At the last Asian Games in 2018, Ambak and 17-year-old gelding, Rosenstolz, took silver in Jakarta-Palembang.
25 years of trying
"This has been a long wait for me; it's been 25 years trying to get a gold and finally, today, I achieved it," said Ambak. "It means a lot to me, especially as this time my whole family is here, and my kids. This is their first Asian Games. It's something that will be quite memorable event for me."
"I wasn't expecting a medal in the beginning because I had a new horse I was supposed to bring, so I was just going to do my best. But then, at the end, I felt my long-time partner was a better choice and that's when I felt, OK, there is a chance."
The competition was fierce with Hong Kong's Jacqueline Wing Ying Siu and Jockey Club Huittharien taking silver on a score of 73.450, and India's Anush Agarwalla scoring 73.030 on Etro. In Tuesday's team event, Siu recorded the highest individual score with Agarwalla in second position and Ambak in fourth, although Malaysia did not put forward a team for the Team Dressage Competition.
Returning champion takes silver
Siu's test showed her experience at this level, and with her entering as the defending champion, the pressure was certainly on. Her 73.450 score put her into the lead before Ambak finished his test.
"What a day — all of the riders agree that, today, the sport has been phenomenal," said Siu. "We've all pushed ourselves to the maximum of our ability and our horses' ability, and to have these results just showcases the talent that we have in Asia. The sport of Dressage is growing and we are producing exceptional results, so it's a great day for sport."
Gold medal Team Dressage athlete takes bronze
Two of India's gold medal winning Dressage team made it through to the individual competition. Agarwalla claimed bronze, but unfortunately, Hriday Vipul Chheda was eliminated on Chemxpro Emerald.
In all, 15 horse and rider combinations stepped into the arena at Tonglu Equestrian Centre, following the qualification round on September 28, which followed the team medal competition the previous day. The test was Intermediate I level in contrast to Saint Georges that was used for the Team Dressage competition. As it was a freestyle, the tests were set to music of the athlete's choice with a floorplan including compulsory movements as per FEI level 1. The maximum score for the technical movements in the test was 200 with an additional 200 points being awarded for artistic elements, including harmony, choreography, creativity, difficulty, and more. The average of the technical and artistic scores gave the final mark.
China's athletes put in a strong performance
The first rider into the ring was Yeh Hsiu-Hua from Chinese Taipei with Ewoud with a score of 69.030. This was a good mark for the pair with their average score at Intermediate I sitting at 65.4%. The pair finished in 8th after the competition concluded. Two riders from China's bronze Dressage Team competed as individuals with Jiayi Rao and Geniaal claiming 6th place with a score of 71.410, and Chao Lan and Sergio Leone taking 7th on 71.160.
This concludes the Dressage phase of the 19th Asian Games, with the first horse inspection for the Eventing phase happening on September 29, followed by the Eventing team and individual Dressage on September 30, and the cross country phase for team and individual on October 1. The concluding phase of the Eventing competition, the Jumping, takes place on October 2, after the second horse inspection that happens at 0800 local time.
Tonglu Equestrian Centre will host all equestrian events of the 19th Asian Games. On the location, Ambak commented: "After six Asian Games that I have participated in, I think this is one of the best facilities I have seen for the horses and the riders."
by Rhea Freeman