(Last Updated On: September 26, 2023)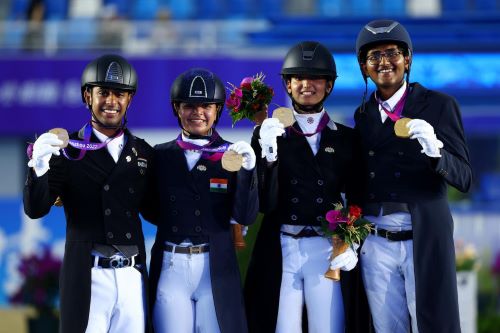 Team India took the first gold medal of the Equestrian part of the Asian Games 2023 in Hangzhou (CHN) on a combined score of 209.205, with China taking silver on 204.882, and Hong Kong just behind them on 204.852 to take bronze. This was the Dressage Team Competition (Individual Qualification) and marked the very start of an action-packed few days of Equestrian Sport at Tonglu Equestrian Centre.
Gold medal team
The winning team, made up of Sudipti Hajela and Chinski (66.706), Divyakriti Singh and Adrenaline Firfod (68.176), Hriday Vipul Chheda and Chemxpro Emerald (69.941), and Anush Agarwalla and Etro (71.088), clinched the first Asian Games Gold medal in Equestrian for India since 1982.
Aged 21, Hajela is 106th in the FEI Dressage World Rankings CDI1*/CDIO1* with the 16-year-old stallion Chinski standing at 101 in the equivalent FEI Dressage World Rankings for Horses. According to FEI statistics, Hajela's average test score at Saint Georges level (which is the level of the test at the Asian Games) is 64.4%, making this a really strong performance. Teammate Singh currently sits in 90th position on the FEI World Rankings CDI1*/CDIO1* with 14-year-old gelding Adrenaline Firford, 85th at the same level rankings.
As with Hajela, the FEI statistics show that 68.176 was a strong performance from Singh with the average test score at this level sitting at 65.7. Chheda currently occupies 51st position in the FEI Dressage World Rankings CDI1*/CDIO1* with gelding Chemxpro Emerald sitting at 43rd at the same level. As per Hajela and Singh, Chheda's score beats his average by over 2%. Agarwalla's test on nine-year-old stallion Etro was a particular highlight at over 4% more than the average score at Saint Georges level.
Hajela was the first to compete and set a good benchmark for the team. Singh followed before Chheda put in a well-balanced performance. Last to compete for the team was Agarwalla, who produced a score of 71.088, very much in line with the consistent performances the duo has shown this year.
This is the first-ever gold medal India has earned in Dressage at the Asian Games. India's previous best Team Dressage performance at the Asian Games was in 1986 in Seoul (KOR), where the team took bronze behind South Korea (gold) and Japan (silver).
Strong performance for Team China
Team China claimed silver with their team consisting of Zhuoqin Huang (68.176), Jiayi Rao (69.265), and Chao Lan (67.441). Together the team scored 204.882. This is Huang's fifth appearance at an Asian Games with 2002 (Pusan), 2010 (Guangzhou), 2014 (Incheon), and 2018 (Jakarta-Palembang) listed as achievements. The silver medal won at Hangzhou isn't Huang's first, as Team China claimed this at the 2010 Games too. Lan is also not new to the Asian Games, making his debut in 2014 in Incheon (KOR). It was Rao's first Asian Games appearance with stallion Geniaal, who's demonstrated consistent form at this level over the last year.
Bronze for Hong Kong, but Siu's one to watch
Bronze was awarded to Team Hong Kong, who missed out on silver by a small margin. The team was made up of Samantha Grace Chan (65.353), Yuen Yan Annie Ho (68.323), and Jacqueline Wing Ying Siu (71.176), with Siu scoring the highest across the competition. Whilst this was Chan's first Asian Games, Ho and Siu have previous form with Ho competing in 2010 in Guangzhou (CHN), 2014 in Incheon KOR), and 2018 in Jakarta-Palembang (INA). Ho is also part of the Eventing team for Hong Kong while Siu claimed individual gold in the Dressage test at the previous Asian Games.
All change
At the 2018 Jakarta-Palembang Asian Games, the Team medals were completely different, with Japan, South Korea, and Thailand taking gold, silver, and bronze positions, respectively. This year, Japan took 4th on 202.324, Thailand took 5th on 194.118, and South Korea was eliminated.
Although the team competition is over, there's still all to play for the Individual category. All successful competitors now move through to a second round of individual qualification on 27 September.
by Rhea Freeman