(Last Updated On: October 4, 2023)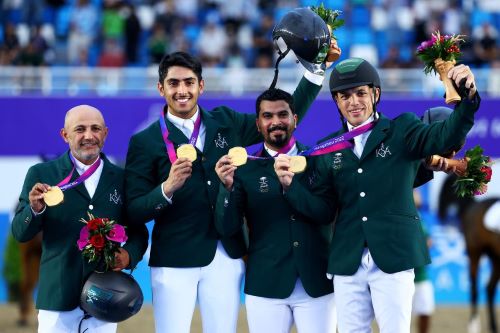 The Asian Games' Team Jumping competition concluded with Saudi Arabia winning gold, Qatar taking silver, and the UAE team in bronze medal position.
Defending champions Saudi Arabia put forward a strong team made up of Abdulrahman Alrajhi, Meshari Alharbi, Ramzy Al Duhami, and Abdullah Alsharbatly. Both Alsharbatly and Al Duhami were on the 2018 (Jakarta-Palembang) and 2010 (Guangzhou) winning teams, with Alsharbatly also being part of the 2006 (Doha) victory. This isn't the first team appearance for Alrajhi either as he was part of the 2014 (Incheon) team that took silver, but it was Alharbi's debut team appearance at an Asian Games – what a way to start!
"We came to do one mission, to win the gold, and we did it," said Alrajhi.
Al Duhami continued: "It's amazing. It's always nice to be gold, and the problem was we had a lot of pressure, because the gold was always expected from the Saudi team, so it's so difficult. Anything can go wrong and that was our worry.
"We had to keep our focus, keep our cool, and that's the only thing we can do. We just did that and we took it one fence at a time, and slowly, slowly we basically got it together and performed when it counted."
Silver for 2014's winning team
Previous winners, Qatar, took silver with an accomplished team made up of Bassem Mohammed, Rashid Al Marri, Khalifa Al Thani, and Faleh Al Ajami. Mohammed was part of the gold winning team in 2014 (Incheon) and the bronze winning team in 2018 (Jakarta-Palembang), and Al Ajami was part of the team in 2010 (Guangzhou), providing a mix of experience across the athletes.
Faultless first and second rounds for UAE
Bronze went to the Team UAE, made up of Abdullah Al Marri, Omar Abdul Aziz Al Marzooqi, Salem Al Suwaidi, and Mohammed Al Hajri, with all four athletes providing faultless first and second rounds, but all horse and rider combinations picking up penalties in the jump off. Al Marri has competed in previous Asian Games in 2006 (Doha) and 2014 (Incheon) where the team took third and fourth, respectively, but for the remaining team members, this was their first Asian Games.
The competition was made up of two rounds before the top-ranking teams completed a jump off. The main course measured 140cm with 12 obstacles made up of 15 jumps in all and provided plenty of challenges for the athletes with penalties and eliminations across the teams.
"We came to do one mission, to win the gold, and we did it," said Alrajhi.
Team Saudi Arabia and UAE picked up zero penalty points in the first round with Qatar's Al Thani adding four, but his score was later discarded due to elimination, meaning this didn't impact on the overall ranking. In the second round, Saudi Arabia and UAE maintained zero penalties across all four athletes, giving them maximum opportunity to come home with a medal.
Moving into round two, Japan and Kuwait were also on zero penalties with both teams adding jump faults to the team scores during the second phase, ruling them out of the final part of the competition.
Jump-off excitement
The jump-off was crucial in the final medal positions. Saudi Arabia's Alrajhi added nine penalties to his total, but due to the other three athletes adding zero penalties in the final phase, the gold medal went to Saudi Arabia. Qatar's Al Ajami and Al Marri added zero penalties to the team score with Mohammed picking up four.
UAE picked up penalties across all athletes with Al Hajri adding 16 to his score, and Al Marri, Al Marzooqi, and Al Suwaidi adding four each, a total of 12, moving the team into bronze position.
by Rhea Freeman