(Last Updated On: November 4, 2023)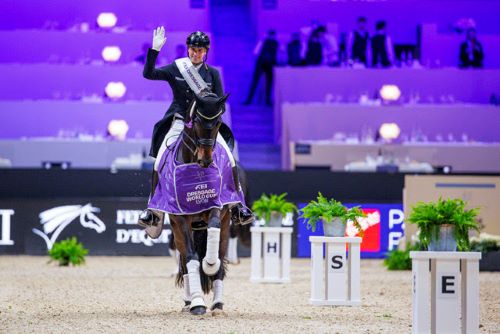 Germany's Frederic Wandres steered Bluetooth OLD to victory in the second leg of the FEI Dressage World Cup™ 2022/2023 Western European League in Lyon, France; Denmark's Nanna Skodborg Merrald and Blue Hors St Schufro finished second, ahead of Pauline Basquin and Sertorius de Rima Z IFCE from France in third.
In the Grand Prix, Wandres had also pipped Skodborg Merrald by almost a full three percentage-point margin. This was a closer contest with the judges' panel of Mariette Sanders-van Gansewinkel (NED), Christof Umbach (LUX), Raphael Saleh (FRA), Jacques van Daele (BEL), and Henning Lehrmann (GER) awarding a score of 83.415 to the winning pair, while the runners-up posted 82.995.
It was also close between third and fourth, with Basquin's 80.815 giving her the edge over Sweden's Patrik Kittel on 80.610. The Netherlands' Emmelie Scholtens and Indian Rock finished fifth on 79.830 and Morgan Barbançon from France posted 78.320 with Habana Libre A for sixth place.
Overtook
Wandres overtook Skodborg Merrald when second-last to go, and was delighted to find himself with maximum points.
"I always had Lyon in my schedule and was looking forward to coming here. Yesterday in the Grand Prix, he was already very good, and I feel we improved a few things in our Freestyle, so he was even better today.
"I could not be happier with two wins this weekend. I am delighted with my horse – today and the whole season," said Wandres.
Talking about where the improvements came today, he explained, "I wanted to show a little more the piaffe after my test yesterday. I watched the video and could really see; I know the horse could do better and I tried today. It is very important for me to show consistency through my test, and I am really happy," he explained.
Bluetooth's consistency is undeniable. Together the pair won the Grand Prix and Freestyle at Hagen (GER) in April, were on the winning Nations Cup team at Aachen, Germany in July, and competed at the FEI Dressage European Championship 2023 in Riesenbeck, Germany in September, where they finished sixth in the Grand Prix, seventh in the Grand Prix Special, and ninth in the Freestyle. The double at Lyon has been the icing on the cake in a very strong season.
When asked about his plans for Bluetooth over the coming months, Wandres said that he has discussed that with his team, "and we decided that this was the last show for him this year. He will come with us to Florida (USA) at the end of December and will enjoy some time off and do one show over there to get him ready for the outdoor spring shows. I don't want to ask him too much…. the goal for us next year is Paris (2024 Olympic Games)."
New
Skodborg Merrald performed a brand-new Freestyle for the very first time. "I really enjoyed riding it! I think it fits my horse very well and shows his qualities," she said.
The 12-year-old black stallion Blue Hors St Schufro has had time out of competition due to a busy breeding season, but he was in fine form in early spring when posting a series of wins and second placings at Herning in Denmark and Hagen, Germany, and he has clearly found form again.

"My focus was on Zepter for the European Championship," said the Danish rider, who steered Blue Hors Zepter into second place at the FEI Dressage World Cup™ 2023 Final in Omaha, USA in April, and then went on to multiple placings at the FEI Dressage European Championship, including team bronze and second place in the Freestyle finale.
"I'm really enjoying having him (Blue Hors St Schufro) back in top shape, and he felt very good both days," she added.

She intends to compete both Zepter and St Schufro throughout the Western European League series, and has the third leg in Stuttgart, Germany in two weeks' time already in her sights.
Progression
Pauline Basquin said she has seen "a very nice progression" in the performance of her third-placed gelding Sertorius. "Everything we put in place is paying off now, and the horse has progressed very well. It is not only about the technical things, but the whole team and the work we have done in the past year. My horse is in a really good mindset and I am very grateful for my team. I feel very emotional tonight!" said the Frenchwoman.
Of course, she had the support of the spectators on her home ground. "I felt the public behind me, and their encouragement. I was feeling very special, and this will be a great memory for me and my horse! I am very proud, not only proud of me, but proud of my horse and the French team. I was proud to wear the colour of my country and proud for everyone who supported us," she added.
Show Director Sylvie Robert said, "We are very thankful to the FEI for their trust, and very happy to host the FEI Dressage World Cup™ year after year here in Lyon. And we are happy to see our French riders performing so well in front of their home crowd! We are looking forward to following them all along their journey to Paris."
by Louise Parkes