(Last Updated On: March 23, 2023)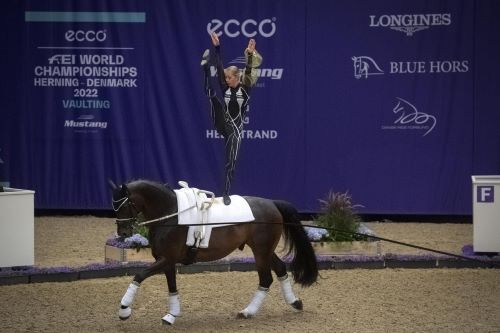 Anticipation is building for the FEI Vaulting World Cup™ Final, taking place outside Europe for the first time in Omaha, USA, from 6-8April. Joining the World's best in Jumping and Dressage for an epic week of competition, the top ranked Vaulters will aim to 'go large' stateside to take home the title of Champion.

Qualifying took place within the 2022 season and the top ranked eight Male and Female individual Vaulters, and five Pas de Deux, who accepted the invitation, will make the journey to the Midwest USA. The individual athletes will perform a Technical test and those in the Pas de Deux will take part in 2 Free tests over two days of competition aiming for glory.  None of last year's winners have chosen to return, leaving the floor completely open for new title holders. A flight has been chartered for six horses to fly from Europe to Nebraska, whilst the rest of the participants will partner with American horses and lungers.

Kimberly Palmer is one of the front runners for the Female title. She will hope to use her home advantage to improve on last year's third place finish.  We can expect excellent artistry as she performs new technical and freestyle routines aboard Romeo lunged by Christoph Lensing.  After stunning judges with her exceptional technical routine in Herning last year, fellow North American, Averill Saunders, will make Canada's premier performance at the FEI Vaulting World Cup™. 
She will compete with a new partnership, Max and Sarah Krauss from Germany. However, Julia Sophie Wagner (GER) vice World Champion will stand in the way and aim to bring the title home to Europe. Compatriot Kathrin Meyer brings her own horse San Classico lunged by her mum Sonja Meyer. Switzerland also has two representatives: Nadja Büttiker with her years of experience, and World Cup debutant Danielle Bürgi. Completing the line up, Eva Nagiller is Austria's hope in the individual competition; she has partnered with Mary McCormick and Kilian, and Blanka Nemeth of Hungary, who will also work with an American team.
Heading up the Male contenders, and searching for the elusive title, is Germany's Jannik Heiland. He will compete with FRH Highlight and Alexandra Knauf and will fight off competition from Lukas Heppler (SUI), who has qualified for the FEI Vaulting World Cup™ Final for the 10th consecutive time, combining with Best Brew and Andrea Selch from the USA for this event. His best World Cup result is second place. In a battle of experience versus youth, Dutch talent Sam dos Santos and Colombian Estiven Palacio Hernandez look to shake things up and have every chance to show they're worth the title. Julian Wilfling competes for Germany in his second final, while the USA's hope in the Men's competition is Daniel Janes, who makes his first individual appearance at a final. Davide Zanella (ITA) and Andrin Müller (SUI) round out the competition.

All eyes are on World Champions Chiara Congia and Justin van Gerven (GER) in the Pas de Deux competition. Undoubtable favourites, they will bring their medal-winning team to Omaha to recreate their winning routines from the 2019 European and 2022 World Championships, and present their final performances together as they retire at the end of the event.

Both the Silver and Bronze medal winning pairs from last year's FEI World Championships (Diana Harwardt and Peter Künne GER, and Rebecca Greggio and Davide Zanella (ITA)) will be in attendance aiming for high scores to kick off the season. They need to hold back stiff competition from Austria's Eva Nagiller and Romana Hintner as well as the Danish duo Maria Thinggaard Sorensen and Freja Linde, who are already out in the States training on their horse, Lunar Eclipse.

Many of the athletes have partnered with new equine companions and will show how versatile and talented they are when they take to the arena for what will be an exhilarating and enthralling competition as we crown new FEI Vaulting World Cup™ Champions.
by Joanne Eccles